What's ahead for retailing in the coming year? The trends can be summed up in two phrases:
tech-driven
and
customer-driven
.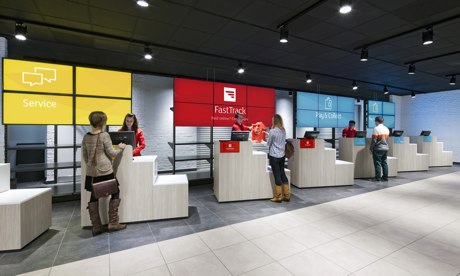 Argos is one example of the
customer-driven
trend in retailing. In showcase stores, it's finally doing away with those laminated catalogues and tiny pencils and substituting iPads and super-speedy service.
FastTrack
, shown above, is the retailer's new service that promises to retrieve merchandise ordered on the website within 60 seconds of the customer entering the store. The idea is to make shopping more convenient at every point, from ordering to picking up to paying. Instead of looking at a catalogue, shoppers can browse via iPad kiosks and speak with live employees. Watch for several of these new stores to open around London before Christmas.
Burberry is another example, because of its
multichannel
marketing. Customers like choices--buy online? buy in a store? order online and
pick up
in a store? get more info? see what other customers have to say?--and Burberry lets the customer choose. With 16.7 million
FB
likes, Burberry has a lot of social conversations going. Incoming chief executive
Christopher Bailey
will build on Burberry's success and creativity to keep the brand at the forefront of multichannel marketing.
Amazon is, of course, a good example of the
tech-driven
trend. No detail is too small for the giant of online retailing. It files for thousands of patents every year, covering innovations as seemingly small as being able to churn out
boxes
in the proper size and shape for the endless array of merchandise it sells. It has just launched Amazon
Coins
, a proprietary virtual currency that Kindle users can use to buy apps or make in-app purchases.
Traditional retailers are
using tech
to make apparel fitting more convenient and more precise; to give customers access to exclusive content; and to better understand customer behavior. Privacy concerns are definitely an issue for customer-tracking systems (such as those that track shoppers via their mobile signals), but this trend will certainly accelerate in 2014.