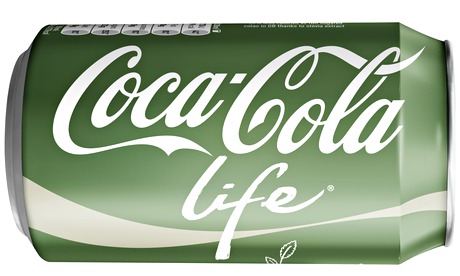 After test marketing a new lower-calorie version of its cola in
South America
, Coca-Cola is readying a rollout in Great Britain and beyond this year.
The new product, Coca-Cola Life, features a
green
can or green label with the characteristic Coca-Cola brand logo script.
Coca-Cola Life is also being marketed as 'natural' because it is partly sweetened by
plant-based stevia
, reducing the sugar content.
This addition to the Coca-Cola product portfolio comes at a time when soft-drink marketers and snack marketers face challenges due to serious societal issues such as obesity. Already,
nearly half
of the cola beverages sold by Coca-Cola in the UK have no calories.
Some critics are unhappy with Coca-Cola Life's calorie count and super-sweet taste. Coca-Cola responds that it is
investing in programmes
to encourage consumers to be more active through such activities as biking.
Consumers will have the final say: If enough buy Coca-Cola Life, and keep buying it, the new product will remain in the portfolio. If not, the new product will vanish.